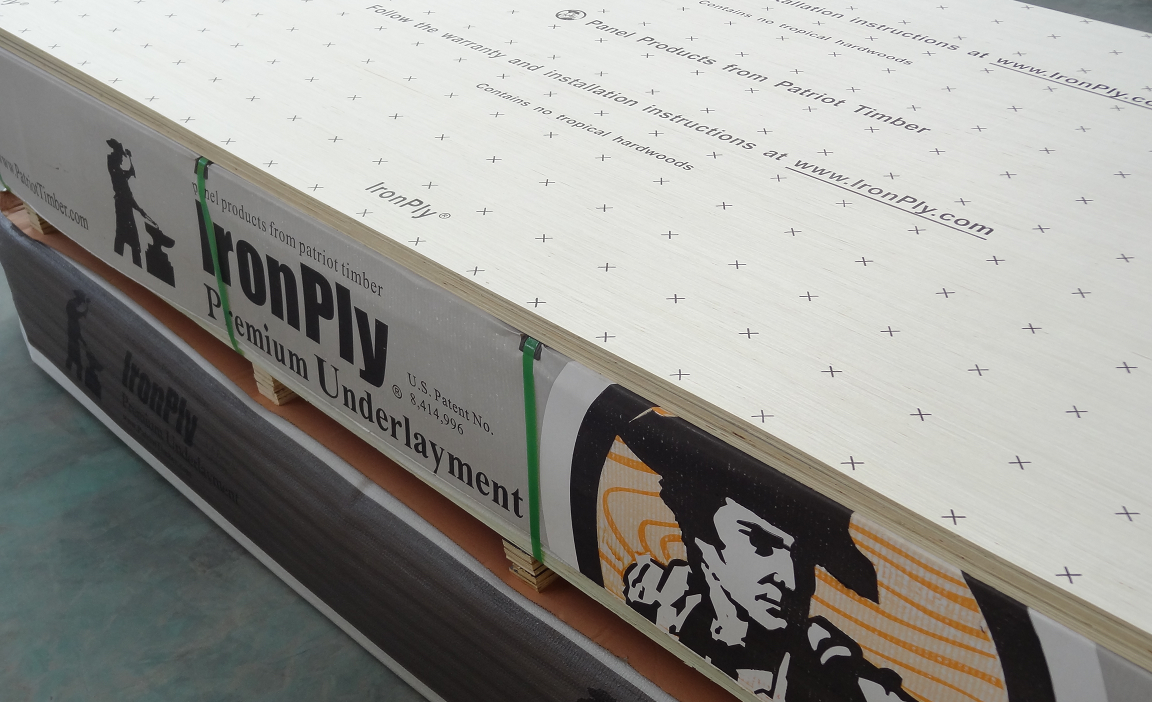 IronPly® Premium Underlayment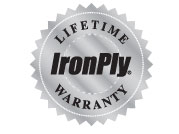 A high quality floor should begin with a high quality hardwood plywood underlayment. IronPly® Premium Plywood Underlayment provides exceptional value and proven performance in a premium Birch plywood underlayment.
Backed by our

Lifetime Residential Warranty¹

GO GREEN - All the hardwoods in IronPly® plywood underlayment come from plantation and sustainable sources. IronPly® plywood contains no tropical hardwoods or species from endangered forests.

NGBS Green Certified

- IronPly® plywood underlayment is certified for points toward ICC-700 National Green Building Standard™ (NGBS).
Flooring Industry Approved - IronPly® Birch plywood underlayment has been tested and approved by Armstrong®², Congoleum®, IVC US®, Mannington®, and Tarkett® for use with their flooring. IronPly® plywood uses an exterior glue bond³, as required by the major vinyl manufacturers' warranties.
TCNA Tested - Extra Heavy Classification - IronPly® panels received an "Extra Heavy" classification per the ASTM standards for ceramic tile installations by the Tile Council of North America.
Premium Grade - The face, back, and core of IronPly® plywood underlayment are made from premium grade Birch and hardwood veneers. All veneers are sorted and graded piece by piece to meet our stringent quality standards.
Durability & Strength - IronPly® plywood underlayment is cross-grain constructed for superior strength and durability, ideal for high traffic areas such as kitchens and bathrooms.
Solid, Uniform Core - Every sheet of IronPly® plywood underlayment has a sound, uniform core for superior wear and durability.
No Bleed-Through - IronPly® plywood underlayment panels are 100% uniform in color from sheet to sheet and will not bleed through to your floor.
Easy to Use - IronPly® plywood underlayment is manufactured to reduce preparation time during installation. A 100% straight-grained face contributes to the ease of cutting and the spread of adhesives. No special tools are required.
Best Packaging in the Industry - All crates of IronPly® plywood underlayment include two layers of packaging for complete product protection and damage-free arrival.
Five-Point Inspection - IronPly® plywood underlayment is manufactured using state-of-the-art technology and inspected five times to ensure the panels are free of delamination.
CARB Certified - All IronPly®  panels are CARB P2 compliant.
Available in these convenient sizes: 4' x 8' and 4' x 4' - no matter the size of your job, IronPly® plywood underlayment has the right size panel to meet your needs. All panels are 1/4" nominal thickness.

Additional IronPly® Plywood Underlayment Links:
Call Us (336) 299-7755 or Email Us for sales and technical information.
IronPly® panels are protected by one or more issued and pending US and foreign patents, which may include U.S. Patent Nos. 8,414,996 and 9,242,391.